I'm glad to see that the Nesting Expedition Dinghy is now officially out for all to see and discuss. In its own way, it's as much a departure from the CLC past as the Peeler. As a recent convert to Bolger's box theory, I'm excited by the possibilities inherent in this boat.
These boxes move a lot more gracefully than the shape suggests. My double-ended, flat-bottomed, Bolger schooner with almost no flare has achieved double digit speeds (knots or miles) on a 16-foot waterline, so the box theory works. You just have to get past the, well, boxiness of the boats. In that regard, John's managed to add some grace to the lines and, even better, come up with a rationale for doing so (something other than "a pram bow makes it look like a bathtub").
I do have one nit to pick with his description over on his blog - 75"x43"x36" is in no way a cube. Hope his ballast calculations are better than his geometry :-)
But seriously, the collapsed size and three sections are a great advantage for those of us whose boat storage facilities are saturated. This boat will definitely ease the storage problems of a new addition to the fleet. It will also fit very nicely into the back of even my Chevy S10. With the shallow draft and sections I'd be able to launch it from the no-trailer beach landings that normally only kayaks and canoes are allowed to use.
When I visited the prototype (back when it was still called NanoShip, before the name was appropriated for the other new design), one of the things I saw, which John did not explicitly mention in his blog, are the alignment tabs that position and lock the bulkheads into place during assembly. Lots of thought has gone into the build process, which should make it a quick build in spite of all the parts.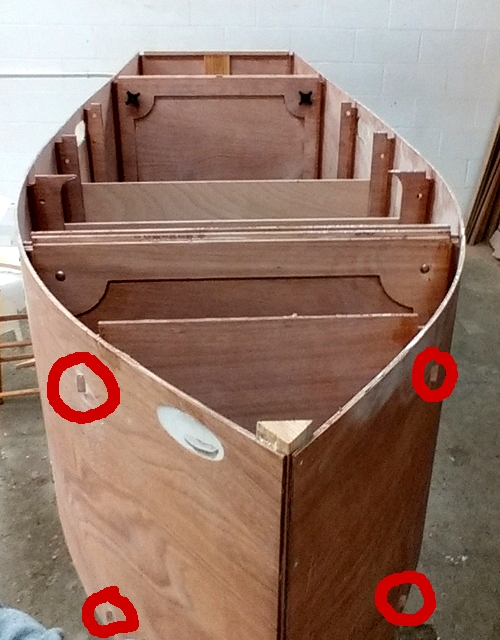 I like the idea of the downloadable plans and wiki manual. Though honestly, John's already released enough information for any experienced boatbuilder to build one. It's tempting to run over to CLC, pick up a load of wood, glass, epoxy, etc. and show up with one at Okoumefest, but that'd be gauche so I won't do that to him. The point is, it's not that far away from a wiki kit.
I am a little skeptical about the chine logs. I'd investigate the possibility of changing the build order and using a continuous taped fillet instead. I don't like the chine log's edge, nor its propensity to trap dirt and rot.
Finally, considering that in this text and twitty age nothing is allowed to use more than 3 letters, N.E.D. (or NED) will become the default designator for this boat. This is ambiguous with the NE Dory. I know that NanoShip passed to another boat, so maybe it's time for a contest to rename this class yet again. Something like JED (John's Expedition Dory), maybe? There's precedent with John's Sharpie.
Anyway, I'm really looking forward to this design becoming available. Wonder if it'll make it to Okoumefest?
Have fun,
Laszlo
23 replies:
---