This year's Okoumefest was also launch day for my Wood Duck 12. Since I've been subjecting everyone to construction commentary, I figure I ought to let you all in on the payoff, too.
Saturday dawned wet and cold, the duck was was loaded onto the truck during a lull in the rain. Thanks to the duck's light weight, relatively short length and my rack configuration, it was an easy process, not requiring fooling with any bow or stern lines.
At Camp Letts, Okuomefest was on in spite of the weather (which actually improved during the day to peak just before sunset with absolutely wonderful paddling weather). Helpful friendly souls came to help and watch (actually, George was waiting for crabcakes and Karl was waiting to photograph me in an embarassing moment). That's their boats back by the white pavillion. George walked off with a prize for his Mantunuck and Karl should have gotten one for his self-designed kayak.
Not shown in the picture above was Phil. He built one of the first Wood Duck 10 kits and most kindly offered to snap some pictures of the launch with my camera for me, which is the only reason I have the next 2 shots. He's also the one who came up with the idea of waterboarding the panels to get them to bend more easily (it's not tortured wood, Dick Cheney says so). The idea worked so well that it ended up in the revised manual.
Since it was chilly, a new untested boat of a type that I hadn't paddled in 8 months (with no forward bulkhead or flotation bags) and I planned on going a good distance from shore that day, I went the whole 9 yards with a wetsuit, spray skirt and gloves. Karl thought that was a lot of equipment for just a duck while poor George, who'd had all the antifreeze boiled out of his body by Florida temperatures was wishing that he'd had some cold weather gear.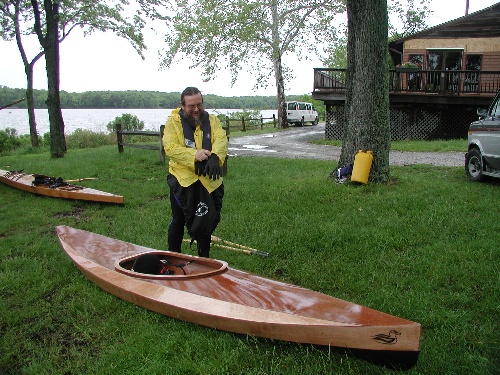 The duck hits water for the first time!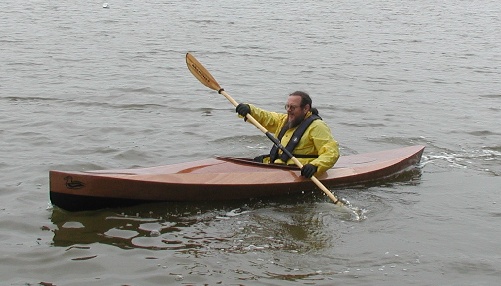 It was everything I wanted from the boat - stable, comfortable, fast enough for what I wanted to use it for, manueverable in tight spaces and safe on open waters. It did a real good job with wind chop. It handled breaking powerboat wakes that were big enough to submerge the bow and it even surfed the bigger wakes. I felt very safe and comfortable travelling miles from the dock (which is why you won't see many photographs from me this year - I was out on the water most of the time). The one downside I ran into was this morning - in a strong wind it tended to want to weathercock. However, I think that was because I was running it mostly empty. If I'd had enough weight in the rear compartment to shift the center of gravity aft, I think it wouldn't have done that.
Eric Schade did an excellent design and CLC embodied it very well. I heartily recommend this boat to anyone who wants something other than maximum speed.
Laszlo, duck driver.
6 replies:
---