Watertribe OkoumeFest Ultra Marathon Challenge
Location: Queen Anne's County Maryland
Dates: Sunday, May 19, 2013 - Tuesday, May 21, 2013
OkoumeFest Ultra Marathon
We are pleased to be partnering with Watertribe to host an expedition-style race starting and finishing at Matapeake State Park on the Chesapeake Bay.
The race starts May 19th, 2013, the morning after OkoumeFest, and the rules are simple: boats must be powered by paddles, oars, or sails, and must be launched from above the high tide mark without assistance. The race covers a scenic route of approximately 64 miles.
Complete details and sign-up information are available on Watertribe's website.
There is a mandatory equipment inspection and captains' meeting the day before, on Saturday, May 18, 2013.
The OkoumeFest Ultra Marathon cost is $110.00 for the captain and $110.00 for a crew member if any.
Billing starts March 11.
Registration ends April 14 at noon.
Payment deadline is April 14 at noon.
Due to the exteme commitment for this challenge late registration and/or late payments will not be allowed. We recommend that you commit to this race early so you have plenty of time for planning, training, and preparation. Pay early in the payment cycle. You can get a full refund up until April 14 at noon. No refunds after that date and time.
The OFUM distance is roughly 64 nautical miles depending on your course selection. This challenge is a circular race in a clockwise direction with start and finish at the same location at Matapeake State Park. Wye Island must be circumnavigated and there will be SPOT checkpoints to enforce this. There is an overall maximum time limit of approximately 2 days and 5 hours.
The Course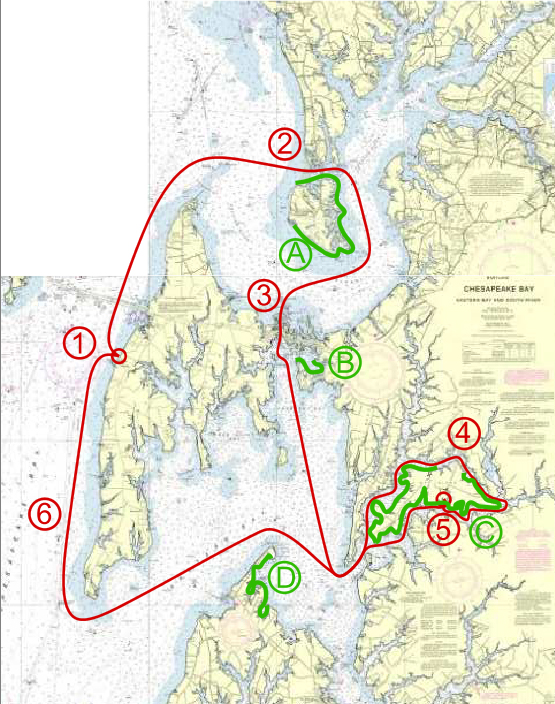 You'll want NOAA charts 12272 and 12270 or their equivalent for full detail; don't use this graphic for navigation.
Note that the course encloses Eastern Neck Island, Wye Island and Kent Island. In addition to a checkpoint at Wye Island there will be SPOT checkpoints along the course to ensure these islands are enclosed in your course. Other course decisions will be up to you.
1. The start and finish is at Matapeake State Park. OkoumeFest runs all day Saturday. The beach is huge, so there's plenty of room to set up and stage your boat for the 0700 Sunday morning start. Camping will be available through CLC. More about starting, finishing, camping, and parking at Matapeake will be posted soon.
2. The first leg takes you north under the Chesapeake Bay Bridge. This is open water and can be very rough depending on the strength of the prevailing SW or NW breezes, especially where it piles into the Chester River. You'll transit a narrow cut through Eastern Neck Wildlife Refuge, beneath a bridge with a fixed 6-foot vertical clearance and 23-foot horizontal clearance.
3. South through Kent Narrows. This takes you under a drawbridge with an 18-foot vertical clearance when closed. The tidal flow through Kent Narrows is frightening. Transit the Narrows with great caution and attention to the tide tables.
4. Continue south down Eastern Bay into the Wye River, to circle Wye Island clockwise. You'll have to go under a bridge with a fixed vertical clearance of 10 feet.
5. The only checkpoint in the race is at a park pavilion, part of the Wye Island National Resources Management Area. (We are working on the logistics of that, and there's a small possibility that the checkpoint location will change slightly.)
6. Head back across Eastern Bay into the open Chesapeake, and north to finish at Matapeake. This is open water and liable to be quite rough depending on wind strength and direction.
Stealth Camping
Green markings denote possible stealth-camping areas. Like just about any place except Maine or the Sea of Cortez, Chesapeake Bay shoreline is mostly privately owned. Those who can sleep aboard their boats (or go without sleep) obviously have an advantage. That said, resourceful kayakers who practice stealthy, zero-impact camping will find beaches and shoreline where they can rest and refuel in these areas:
A. Eastern Neck Island has a mostly marshy shoreline, with countless eelruts and gunkholes. There are broad sandy beaches on the southern shoreline, unreachable except by boat.
B. Marshy Creek is the home of the Chesapeake Bay Environmental Center. Anecdotally, we are told that shore camping is available there, but they are touchy and this would require advance clearance. It's a protected anchorage for sailors but offers fewer options for stealthy shore campers. We are investigating possibilities.
C. Much of Wye Island is parkland. It features many secluded beaches and inlets for the stealth camper. Stay away from the manicured lawns of the mansions (not hard) and you're essentially invisible.
D. The eastern side of Tilghman Point has excellent shelter for small boat cruisers and beaches with stealth-camping possibilities.
Waypoint
Race
Location
Lat/Lon
Start/Finish
OFUM
Matapeake State Park
38.957131°
-76.354476°
CP1
OFUM
Wye Island
38.886425°
-76.141506°
The OFUM is run as an unsupported, expedition-style adventure races for kayaks, canoes and small boats. Your safety and well being are completely up to you. You should be an expert kayaker and/or sailor before you consider this challenge. Although this event is not an ocean race, the location is coastal, subject to the same weather patterns and conditions one finds beyond the narrow barrier islands and impacting the shallow sounds.
"Unsupported" means that there are no safety boats or support crews to help you during the race. You are not allowed to have a support crew follow you or meet you during the race. It is okay to have family or friends meet you at the official checkpoint, but they cannot provide anything other than emotional support. See the official WaterTribe Rules for more details.
Expedition-style means that you should carry the same type of equipment and supplies that you would carry on a major expedition. Camping equipment, food, water, safety, communication means, etc. is required. Please read the WaterTribe Challenge Equipment List (in the Rules PDF), which details required equipment for a Challenge. Please choose your equipment needs carefully. Everyone must also carry all safety equipment as specified by the Coast Guard, local regulations and common sense.
Each participant in this event is required to have a PLB attached to your lifejacket. You must wear your lifejacket while on the water at all times.
In addition, all boats in this challenge are required to carry a SPOT device. The tracking subscription is not required, but it is very handy and highly recommended. Please read the instructions for Spot Setup and Usage for WaterTribe events.
Although this is a race, many participants are more interested in cruising and adventure. Whether you are a cruiser or racer is up to you; time allows for both. Just getting to the starting line is a major accomplishment, and many starters will not finish.
Accommodations
Camping is available and can be arranged via Chesapeake Light Craft.
This event is planned to be family friendly. We will have many suggestions of activities for your guests during the Challenges. Friends and family are invited to the banquet (for a small lunch fee); please indicate any additional numbers on your registration form.