Trailex SUT-300U Adjustable Hand Dolly
Thanks to an unprecedented demand for outdoor products, there are long production lead times for Trailex trailers and dollies. Turnaround times depend on the trailer model and can range from 6 weeks to several months. If you are considering a trailer, we suggest that you order sooner than later to allow for the delay. Students building boats in classes should contact us to confirm availability, to avoid a logistical crunch at the end of the class!

Estimated Production Date: June 2022
This lightweight fully adjustable universally hand dolly can be used at a retracted length of 8' 6", fully extended to 13', or set to a length anywhere in between. The dolly has adjustable rear bunks, front bow supports and a bow stop. The dolly is built entirely of durable aluminum and can be easily disassembled for transport. Handles small dinghies as well as long, lightweight boats up to 21' with ease. The perfect hand dolly for moving our Pram, Skerry, Tenderly, Wherry, and other boats in this size and weight range.
Assembed weight: 51 lbs
Shipping weight: 55 lbs
Max load: 300lbs
Length Retracted: 8' 6"
Length Extended: 13'
Assembled Width: 53"
Printable assembly instructions: [PDF]
Hitch Attachment Option for towing with an ATV, golf cart and other utility vehicles. Hitch uses a 1-7/8" ball. Great for hauling through the neighborhood or marina.
Not intended for road or highway usage.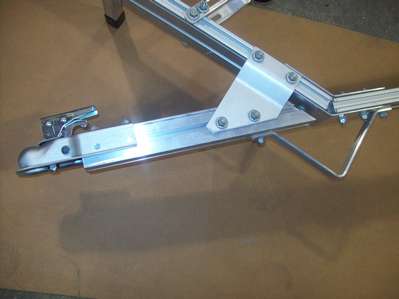 8" Wide Beach Wheel upgrade shown here. (Standard wheel on the right)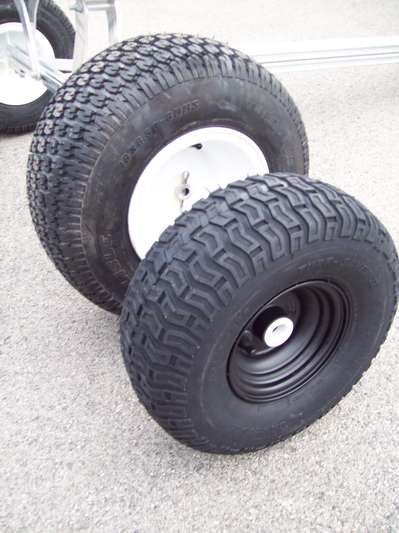 Note: Dolly kits are drop-shipped from the factory to your door. Dollies are not always available for pickup in our showroom, call in advance to check for pick-up availability. Shipping fees may apply for showroom pick-ups.