GeorgeK couldn't make it to Okoumefest this year (he's busy laumching a Space Shutte), so I promised to take a lot of pictures for him. Then it occurred to me that there's probably other folks out there who are interested in te goings on, so I'm posting them here so everyone can see them.
I could tell I was arriving at the right place.
Around back I found Pam Clagett's massively tricked out CH18 and Jim Norman's week-old WD12.
This is the entrance to the new shop. It was full of people doing something.
They were looking at boats...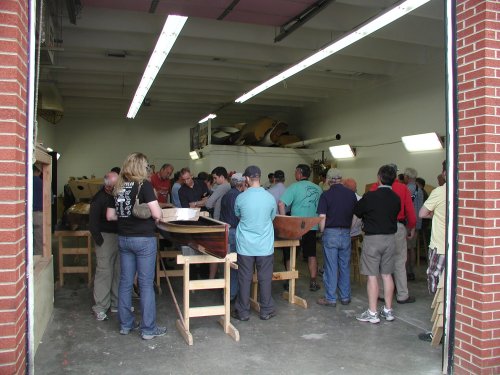 .. and watching Nick Schade demonstrate how to apply fiberglass. Wonder what that thing between Nick and the camera is?
Meanwhile, back in the old shop, the one that used to appear on the shop cam, walls have sprung up, as have yak racks.
Behind the walls, offices are growing.
Someone will have a great spot to play peek-a-boo/
Through a massively bolted steel doorframe (whiich rumor has it will have a carved okoume plaque with the words "Abandon hope all ye who enter here" mounted above it) lies..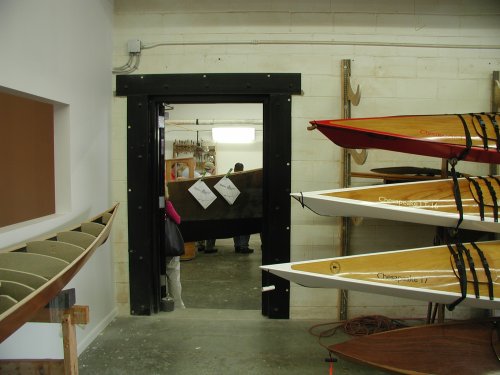 Madness!
Somegody's been playing with his bulkhead
The foam nose of Madness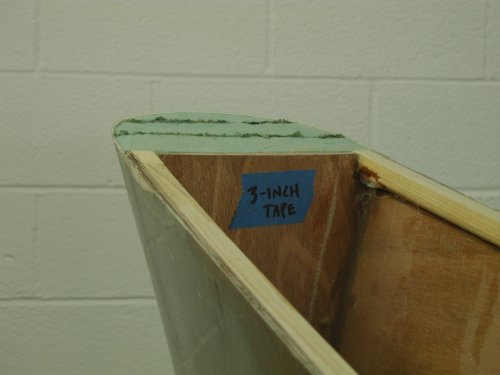 Where the cross beams go.
The cockpit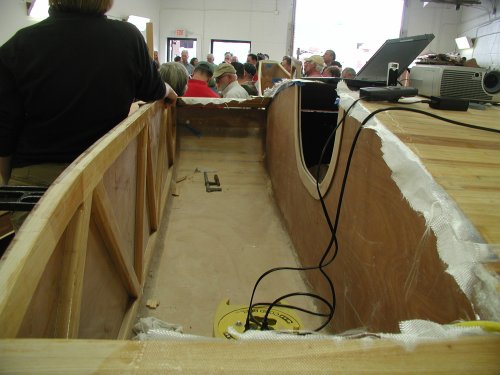 Inside, with Robin's arm for scale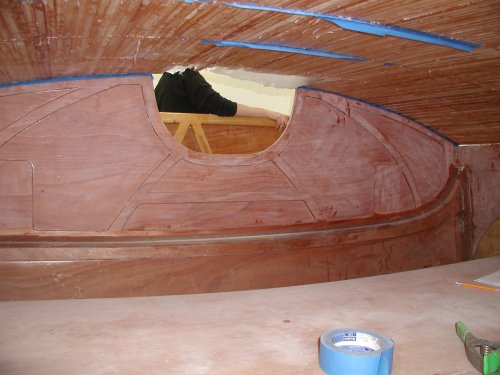 Shearwater Sport, 3rd from the top. The product of a careless night of fun between a WD12 and a Shearwater 16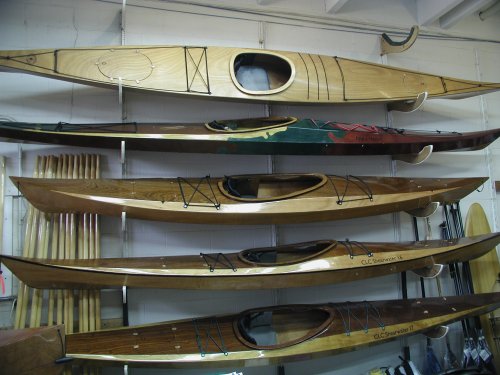 Eric Schade (left)- the genius behind the Wood Duck and Shearwater lines
The varnishing demo was moved outdoors where dinner was being eaten
After which John Harris gave a slideshow about his proa build
Unfortunately, just as he was going to explain why the nose had to be cut off and replace with foam, he was eaten by a giant rubber chicken.
We'll see if he can escape in time for tomorrow's festivities.
Laszlo
4 replies:
---