That's Big Little Bug Festival.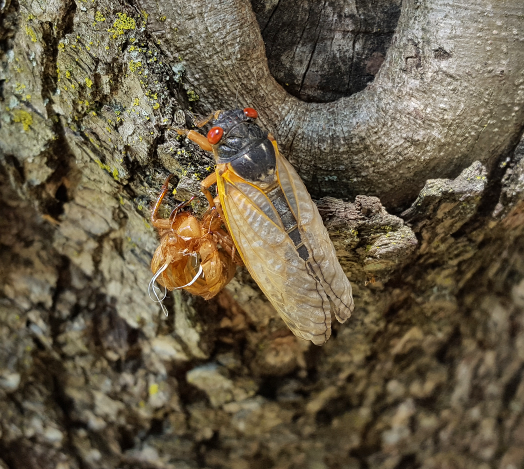 Brood X is emerging and they were closing in on Camp Wabanana, We could hear the calls of sex-crazed 17 year olds all around us, though the main part of the brood was off to the northwest.
As far as boats go, it was a blast. Not only did I see some really nice boats, I got to see people I hadn't seen in years. I also got to meet some of the forum posters. In no particular order, there was MarkN, Poopdeck Pappy, JD\'s (and his family), hspira and Dan Thaler. Howard and Dan I'd met before, but it was good to finally be able to put a face to the names for the others (who looked nothing like what I had imagined). If I forgot anyone it's because there were so many people there and after this last year I'm not used to having to handle so many.
I also launched a blast from the past - possibly the last WR18 ever built. I bought the kit in 2010 and it sat unopened in my basement for years. Finally, retirement freed me and I finished the boat at 3:00 pm the day before the bugfest.
The 2000's called and they want their kayak back. Time may pass but the laws of hydrodynamics don't change. It's just as good a boat as it was back then. I went for a retro look and did the painted hull, varnished deck and deck rigging straight out of the older pages of the shop tips.
Since I'm never going to need large cargo capacity, I left off the hatches and put in drain plugs to ventilate the bow & stern airtanks. In keeping with the sleek look, I also used brass padeyes as a place to tie grab loops instead of those clunky plastic handles anchored to the sheer clamps (the padeyes are backed up with 3/4" plywood). I also decided against the CLC through-hull skeg box, even though it's simple and bullet-proof, and went with a Guillemot skeg that I purchaed from Moonlight Marine just so I wouldn't have any clutter on the decks.
Lots of other fun things happened, especially after the party was officially over. It was worth it staying the extra night. The drunken power boats went home, the wind died and the water quieted down for a perfect sunset paddle in the Bay. And no matter who tells you otherwise, there absolutely wasn't a High Moon Low Tide Skinny Dip Party. But yes, there was a giant sea turtle that excavated in the sand and then pulled itself out to return to the sea.
Next year without the plague uncertainties ought to be truly amazing. Hope to see you all there.
Laszlo
6 replies:
---