Just poking around - night heron hybrid paddlers report
Well it was a cold but beautiful day here in the Washington DC metro area so I ran over to my brother's house to 'borrow' the night-heron hybrid I made with my nephew this last summer.
He had to return to college and I was concerned about dust and bugs and other things that happen to a boat sitting fallow….and what the heck….i had never taken this thing out for a ride and was aching for the opportunity to see how it works.
Anyway, pleased to report a great paddle and a surprisingly wonderful handling boat that really has a very interesting paddling character compared to it strip built cousin.
So for anybody considering a night heron hybrid, in a word. High praise. A couple things that I would highlight:
Night heron's are fast with a strong paddler. No trouble making this boat move an extra notch when you need it.
The hybrid version of this really tracks strong and is much more responsive to leaned turns. Most of the paddle was done in a breezy, puffy flat water with wind 11 knots in the lulls and gusts to 17. But compared to its strip built cousin, most of that was managed with a little bit of lean and no skeg. The only time I needed the skeg was in a breeze with a rear quartering wind where she wanted to round up…a little skeg and she tracked just fine.
A little bit roomier than the equivalent strip build. I need some knee bend to be comfortable and it just felt like there was a little more volume where it mattered.
On this build, we went with hatches each of which are held in place with 6 toggles. Definitely the way to go if you need a waterproof hatch. My other boats have straps and they just are not capable of ensuring that tight, uniform down pressure required for a waterproof hatch. I was a bit concerned with the look initially….but I think it came out ok.
While certainly heavier than a 100% strip-built boat. It's light compared to a production boat. But I like the fact that where its likely to get scratched its sturdier and its painted, so will be easier to keep fresh looking and fix up to look like new.
This is the first hybrid I have built so surprised how much I enjoyed it and seems to maximize the nice features of a stitch and glue hull (strong, hard chines/solid tracking, easy to build) with the beauty and curves of a strip built deck….which is the part of the boat you spend most of the time seeing.
Anyway, it was a gas getting some air and a paddle in... even though it did not get over 45 degrees here today….but spring is coming and this pandemic thing looks like it may be winding down. And yes, I did return the boat after the paddle.
Be safe.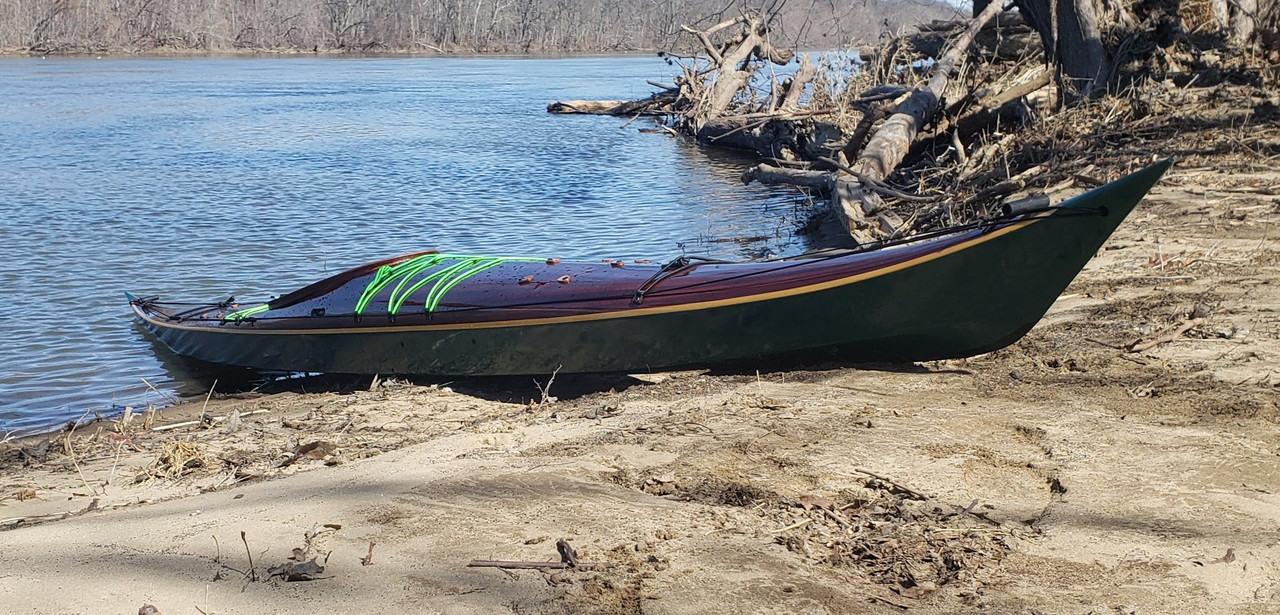 h
No replies have been added to this post.
---