Strange shapes in the CLC shop at Okoumefest
First, the ever-popular Nesting Expedition Dinghy. It's moving along at about the same speed as the Wood Duck T-shirts, but there is noticeable progress.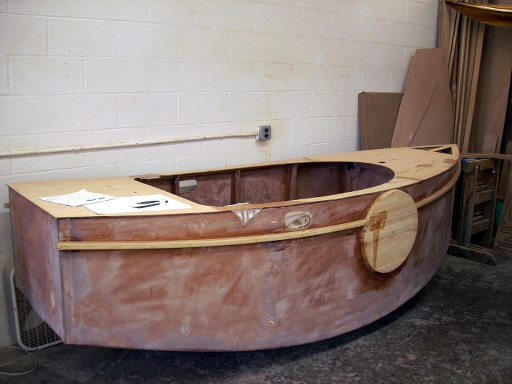 Next, something that according to the April 1st post was supposed to be the world's smallest round-the-world cruiser. That, of course, was just a joke. John came clean at Okoumefest. It's CLC's entry into the NASA Commercial Resupply Services 2 competition - the world's first stitch and glue okoume spacecraft. The docking hatch is propped partially open for demo purposes. The outside will be covered on the bottom with graphite-epoxy mixture and on the top with a white cabosil and epoxy mixture. The recent discovery of space termites is putting a damper on the project, though.
Have fun all,
Laszlo
2 replies:
---